¡¡¡¡Before browsing, please download and install the Comic Reader(QJReader) software.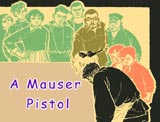 A Mauser Pistol



The History of Hu Lanhe City
Pictured by Hou Guoliang

A Copper Button (II)
Pictured by Yang Yiling

Village of Landlord Kao
Pictured by Deng Ke

Hamlet
Pictured by Hu Kewen

Treasure Island
Pictured by Sun Yu

Three Pools Mirroring the Moon
Pictured by Wu Shanming


¡¡¡¡¡õYoung Chinese generations' art works. The teenage authors learned a great deal from the west, and integrated the western drawing skills and styles with Chinese traditional drawing skills.
| | | | |
| --- | --- | --- | --- |
| Violence | You Broke My Heart | Mei Flower | Delicate |
| | | | |



Be of Noble Character and High Prestige
The original Chinese idiom:
De2 Long2 Wang4 Zhong4: "De", character; "long", noble; "wang", prestige; "zhong", high. This idiom may also be written as "De2 Gao1 Wang4 Zhong4", and "gao" means "noble".