¡¡¡¡Before browsing, please download and install the Comic Reader(QJReader) software.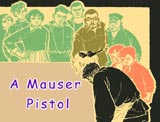 A Mauser Pistol



March Northward
Pictured by Shen Yaoyi

The Legend of Stone Old man
Pictured by Pu Huihua

A Gold Key
Pictured by Uragemilsky,Shen Fanyuan

My Father Deng Xiaoping (2)
Pictured by Ye Xiong

A Little Hero Called ¡°Little Radish¡±
Pictured by Luo Pan

The Riverside at Dawn
Pictured by Gu Bingxin


¡¡¡¡¡õYoung Chinese generations' art works. The teenage authors learned a great deal from the west, and integrated the western drawing skills and styles with Chinese traditional drawing skills.
| | | | |
| --- | --- | --- | --- |
| B-lack | Hurt | Stood in the Snow | Frightened Birds |
| | | | |



Be Unable to Make Up One's Mind
The original Chinese idiom:
"Ju3 Qi2 Bu1 Ding4": "ju", hold; "qi", chessman; "bu", no or unable; "ding", make up one's mind.