¡¡¡¡Before browsing, please download and install the Comic Reader(QJReader) software.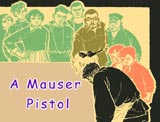 A Mauser Pistol



Pseudo Groom
Pictured by Feng Zhen

A Scheme of Revenge
Pictured by Huang Yunsong

A Murdering Case on Sam Street
Pictured by Luo Xixian

Wreaths
Pictured by Hu Shaofei

Gussy and Dessy
Pictured by Hua Sanchuan

Mr. Dongguo and His Donkey
Pictured by Liu Duan


¡¡¡¡¡õYoung Chinese generations' art works. The teenage authors learned a great deal from the west, and integrated the western drawing skills and styles with Chinese traditional drawing skills.
| | | | |
| --- | --- | --- | --- |
| I'm Isolated | Aquarius 1 | Sakura | Jane Wearing Beret |
| | | | |



Attempt More Than One Has Ability to
The original Chinese idiom:
"Hua4 Hu3 Lei4 Quan3": the person who has not the ability to draw tiger drew it into a dog. "hua", draw; "hu", tiger; "lei", like; "quan", dog.