¡¡¡¡Before browsing, please download and install the Comic Reader(QJReader) software.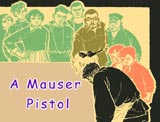 A Mauser Pistol



Emir
Pictured by Gao Baosheng

Bronze Bird
Pictured by Zheng Jiasheng

The Log-Transport Old Well
Pictured by Shi Dawei

Columbus
Pictured by Huang Yunsong

Bela
Pictured by Yu Xiaofu

Love
Pictured by Xia Shuyu,Ling Tao


¡¡¡¡¡õYoung Chinese generations' art works. The teenage authors learned a great deal from the west, and integrated the western drawing skills and styles with Chinese traditional drawing skills.
| | | | |
| --- | --- | --- | --- |
| Lv Dongbin | Photo | Joker | See Sea |
| | | | |



Get Ready for Battle
The original Chinese idiom:
"Li4 Bing1 Mo4 Ma3": "li", grind; "bing", weapon; "mo", feed; "ma", horse.