¡¡¡¡Before browsing, please download and install the Comic Reader(QJReader) software.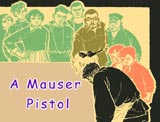 A Mauser Pistol



Twelve Chairs
Pictured by Wang Guanqing

Secret of a Sculpture of Buddha
Pictured by Pan Honghai

My Father Deng Xiaoping (5)
Pictured by Ye Xiong

Find out the Secret of the ¡°Death Area¡±
Pictured by Gao Baosheng

Whirlpool
Pictured by Huang Yunsong, Zhang Changxun

Three Wrongly Judged Cases
Pictured by Yang Qinghua, Yang Jiuhua


¡¡¡¡¡õYoung Chinese generations' art works. The teenage authors learned a great deal from the west, and integrated the western drawing skills and styles with Chinese traditional drawing skills.
| | | | |
| --- | --- | --- | --- |
| Wings of Dream | Stories in the Sweet Potato Field | Zhujiajiao (an ancient town) | Baby-Horse |
| | | | |



Open the Door to Welcome the Robbers
The original Chinese idiom:
"Kai1 Men2 Ji2 Dao4": "kai", open; "men", door; "ji", welcome; "dao", robber or bandit.