¡¡¡¡Before browsing, please download and install the Comic Reader(QJReader) software.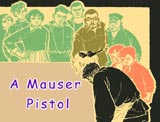 A Mauser Pistol



Bai Qiulian
Pictured by Yan Meihua

Bai Qiulian
Pictured by Yan Meihua

A Copper Button (I)
Pictured by Yang Yiling

Tarzan the Ape Man (7)
Pictured by Huang Yunsong, Zhang Changxun, Pan Honghai, Qian Guisun

The Riverside at Dawn
Pictured by Gu Bingxin

The Old Couple
Pictured by Li Chun


¡¡¡¡¡õYoung Chinese generations' art works. The teenage authors learned a great deal from the west, and integrated the western drawing skills and styles with Chinese traditional drawing skills.
| | | | |
| --- | --- | --- | --- |
| Seeking | Lin Daiyu Bury Flowers 9 | Whiz Kids | Beyond the Flower |
| | | | |



Listen to Both Sides and You Will be Enlightened
The original Chinese idiom:
"Jian1 Ting1 Ze2 Ming2, Pian1 Xin4 Ze2 An4": "jian", both sides or all parties; "ting", listen; "ze", (auxiliary word) equals to "will" or "then"; "ming", enlighten; "pian", one side; "xin", listen; "an", benight.