¡¡¡¡Before browsing, please download and install the Comic Reader(QJReader) software.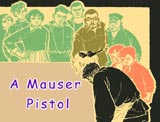 A Mauser Pistol



Poem Case
Pictured by Zhang Xiwu, Zhang Rongzhang

Rui Yun
Pictured by Chen Huiguan

Tarzan the Ape Man (7)
Pictured by Huang Yunsong, Zhang Changxun, Pan Honghai, Qian Guisun

The Black Art
Pictured by Yan Meihua

The Quite Don (4)
Pictured by Huang Yunsong,Zhang Changxun,Fu Dongli

Story in Chinatown
Pictured by Zhao Guojing, Wang Meifang


¡¡¡¡¡õYoung Chinese generations' art works. The teenage authors learned a great deal from the west, and integrated the western drawing skills and styles with Chinese traditional drawing skills.
| | | | |
| --- | --- | --- | --- |
| Shoot the Dog Star | Violence | Full Moon | Morning |
| | | | |



Follow the Same Old Road to Ruin
The original Chinese idiom:
"Chong2 Dao3 Fu4 Zhe2": "chong", once again; "dao", drive onto; "fu", upset or fall over; "zhe", track. It means to fail again by conducting the same wrongdoings.