¡¡¡¡Before browsing, please download and install the Comic Reader(QJReader) software.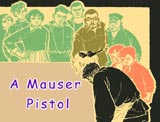 A Mauser Pistol



The Regretting Birds
Pictured by Pu Huihua

Miss Rose Looking for Water
Pictured by Chen Huiguan

Situ Zhao Sell Country
Pictured by Li Chengxun

Romance of West Chamber
Pictured by Wang Shuhui

The Regretting Birds
Pictured by Pu Huihua

Sisters Exchange Marriage
Pictured by Zhang Xiwu, Zhang Rongzhang


¡¡¡¡¡õYoung Chinese generations' art works. The teenage authors learned a great deal from the west, and integrated the western drawing skills and styles with Chinese traditional drawing skills.



Defy the Universal Will of the People
The original Chinese idiom:
"Mao4 Tian1 Xia4 Zhi1 Da4 Bu4 Wei2": "mao", risk or conduct; "tian xia zhi", the world's or of the world; "da", most or serious; "bu wei", wrong. It means to conduct the most wrongdoing of the world.