¡¡¡¡Before browsing, please download and install the Comic Reader(QJReader) software.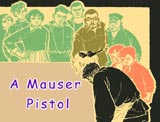 A Mauser Pistol



Red Stone (4) Terrified Devils
Pictured by Han Heping, Luo Pan, Jin Kui, Gu Bingxin

Monk Jidian Play Crickets
Pictured by Huang Fei

Love And Cruelty
Pictured by Huang Yunsong,Zhang Changxun

Ten Brothers
Pictured by Zheng Jiasheng

The Liaison Station in the River
Pictured by Dai Dunbang, Xu Genrong

The First President in China
Pictured by Shen Yaoyi,Shen Yaoding


¡¡¡¡¡õYoung Chinese generations' art works. The teenage authors learned a great deal from the west, and integrated the western drawing skills and styles with Chinese traditional drawing skills.
| | | | |
| --- | --- | --- | --- |
| Romance | The Chief of Angel | Blood | Beautiful eyes |
| | | | |



Pool the Wisdom of the Masses
The original Chinese idiom:
"Ji2 Si1 Guang3 Yi4": "ji", pool or collect; "si", wisdom or opinion; "guang", gain greatly; "yi", good effect.