¡¡¡¡Before browsing, please download and install the Comic Reader(QJReader) software.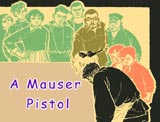 A Mauser Pistol



Nui Ngu Hanh
Pictured by Deng Ke

Three Wrongly Judged Cases
Pictured by Yang Qinghua, Yang Jiuhua

Sisters Exchange Marriage
Pictured by Zhang Xiwu, Zhang Rongzhang

The Way Makes Child Cleverer
Pictured by Gao Baosheng

Find out the Secret of the ¡°Death Area¡±
Pictured by Gao Baosheng

Mao Zedong on the Way of Long March
Pictured by Shen Yaoyi


¡¡¡¡¡õYoung Chinese generations' art works. The teenage authors learned a great deal from the west, and integrated the western drawing skills and styles with Chinese traditional drawing skills.
| | | | |
| --- | --- | --- | --- |
| Lin Daiyu Bury Flowers 13 | Jiang Wen(actor) | Playing with Butterfly | Eyesome |
| | | | |



Attempt More Than One Has Ability to
The original Chinese idiom:
"Hua4 Hu3 Lei4 Quan3": the person who has not the ability to draw tiger drew it into a dog. "hua", draw; "hu", tiger; "lei", like; "quan", dog.