¡¡¡¡Before browsing, please download and install the Comic Reader(QJReader) software.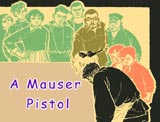 A Mauser Pistol



E. T. the Extra-Terrestrial
Pictured by Cao Hui

A Little Hero Called ¡°Little Radish¡±
Pictured by Luo Pan

Captain Grante¡¯s Children (2)
Pictured by Chen Yanfan

Hua Tuo
Pictured by Xu Zhengping,Ling Tao

Robinson Crusoe
Pictured by Huang Yunsong

Free-Charged Lunch
Pictured by Luo Xixian


¡¡¡¡¡õYoung Chinese generations' art works. The teenage authors learned a great deal from the west, and integrated the western drawing skills and styles with Chinese traditional drawing skills.
| | | | |
| --- | --- | --- | --- |
| The Sunflower | Little Girl 1 | Angel | In the Tomb |
| | | | |



Strengthen the Defenses and Clear the Fields
The original Chinese idiom:
"Jian1 Bi4 Qing1 Ye3": "jian", strengthen; "bi", defenses; "qing", remove or chear; "ye", the fields.