¡¡¡¡Before browsing, please download and install the Comic Reader(QJReader) software.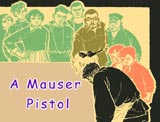 A Mauser Pistol



A Silk Handkerchief
Pictured by Wang Yiqiu

Cai Wenji
Pictured by Xiang Weiren

Mrs. Maid
Pictured by Tong Jiemei

General Peng Dehuai
Pictured by Shen Yaoyi

Hold Out in the Mountains
Pictured by Zhu Guangyu

Bao Zheng Throw Inksotne
Pictured by Zhang Zengmu


¡¡¡¡¡õYoung Chinese generations' art works. The teenage authors learned a great deal from the west, and integrated the western drawing skills and styles with Chinese traditional drawing skills.
| | | | |
| --- | --- | --- | --- |
| Mulan 2 | Girl | Blue Phoenix | Playing Flute |
| | | | |



Strengthen the Defenses and Clear the Fields
The original Chinese idiom:
"Jian1 Bi4 Qing1 Ye3": "jian", strengthen; "bi", defenses; "qing", remove or chear; "ye", the fields.