¡¡¡¡Before browsing, please download and install the Comic Reader(QJReader) software.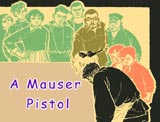 A Mauser Pistol



Fugitive
Pictured by Pan Honghai

A Dancing Woman
Pictured by Zhao Longyi, Sun Yu

A Beautiful Girl
Pictured by Zhang Wei

Snow White Horse
Pictured by He Youzhi

The Secret of Crown
Pictured by Liu Yongkai

The Heavenly Match
Pictured by Wang Hongli


¡¡¡¡¡õYoung Chinese generations' art works. The teenage authors learned a great deal from the west, and integrated the western drawing skills and styles with Chinese traditional drawing skills.
| | | | |
| --- | --- | --- | --- |
| On the Sand Beach | Judger | Skull | Pleasinig green |
| | | | |



Die on the Battlefield
The original Chinese idiom:
"Ma3 Ge2 Guo3 Shi1": "ma", horse; "ge", skin; "guo", wrap; "shi", corpse. It means that solders fight bravely on the battlefield and die in the last ditch.