¡¡¡¡Before browsing, please download and install the Comic Reader(QJReader) software.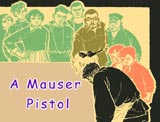 A Mauser Pistol



Zheng Banqiao
Pictured by Wang Yiqiu

Zhou Chu
Pictured by Dai Dunbang,Dai Hongqian

Liu Yu'niang
Pictured by Lu Yan'guang

A Strange Thing
Pictured by Wang Guanqing

Monk Jidian Play Crickets
Pictured by Huang Fei

The Sword of Qin Shi Huang (2)
Pictured by Kong Cheng,Meng Xiang


¡¡¡¡¡õYoung Chinese generations' art works. The teenage authors learned a great deal from the west, and integrated the western drawing skills and styles with Chinese traditional drawing skills.
| | | | |
| --- | --- | --- | --- |
| White & Black | Serenade | Full Moon | The Beautiful Time |
| | | | |



Too Great Pleasure Will Bring About Sadness
The original Chinese idiom:
"Le4 Ji2 Sheng1 Bei1": "le", pleasure; "ji", the extent; "sheng", bring or cause; "bei", sadness.