¡¡¡¡Before browsing, please download and install the Comic Reader(QJReader) software.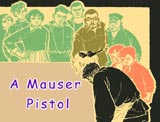 A Mauser Pistol



My Father Deng Xiaoping (2)
Pictured by Ye Xiong

Find out the Secret of the ¡°Death Area¡±
Pictured by Gao Baosheng

Two Monks
Pictured by Xu Zhengping

Bao Zheng Throw Inksotne
Pictured by Zhang Zengmu

Wang Zhaojun
Pictured by Xu Youwu

Whirlpool
Pictured by Huang Yunsong, Zhang Changxun


¡¡¡¡¡õYoung Chinese generations' art works. The teenage authors learned a great deal from the west, and integrated the western drawing skills and styles with Chinese traditional drawing skills.
| | | | |
| --- | --- | --- | --- |
| My Friend and I | Yoyo | Class is over | Joy |
| | | | |



A Crafty Person Has More Than One Hideout
The original Chinese idiom:
"Jiao3 Tu4 San1 Ku1": "jiao", crafty; "tu", hare; "san", three; "ku", hideout.